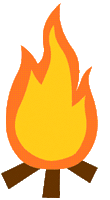 What do we call you? Tashna, Erin or both?
My Lakota name is Tasnaheca which means, "Ground Squirrel" (or the Black Hills Chipmunk). My grandfather gave me this name as a toddler because I had chubby cheeks and always chattered. Using my Lakota name for my language writing just made sense. Although most people outside of the Native community know me as Erin. Hence the reason for using both Tashna & Erin. As far as LaVaux, that's my maiden name. :)
Because I write stories for my children (and nephews and nieces) all of the time, so I figured why not share it with others. If your kids are like mine, then they run through books so quickly, you would have to live at the library to keep them reading something new every day. I once bought a thick series (similar in girth to the LOTR series) for my oldest child and figured it would last her at least a month. She couldn't put the titles down, forsaking sleep despite my best efforts and completed the series in 4 days. :o If you have a child like that, this site will be a blessing! :D
How often do you add new stories?
It depends, I am not as punctual with the updates as I used to be. I wish I was. Time is a big factor for me. I often write the stories (in my head) but typing and saving to PDF, then uploading takes time I have little of. In 2014, my oldest was injured by another child who was bullying her. It was an unfortunate experience that flipped our world upside down. She suffered a brain injury and vision loss. Thankfully she has mostly recovered but she still has some bad days and because of the experience, I began homeschooling both of my children which keeps me on my toes.
​
But if you keep the site bookmarked and check back periodically, I think you'll find an update or two from time to time. :) And with luck, I may start posting again on a regular basis!
Please reload